This month, I am celebrating diversity by showing off some of the beautiful women of color I have photographed.  Gorgeous moms-to-be of all races and ethnicities. Regardless of skin tone or hairstyle, every maternity client is concerned most about two things for their session: hair and makeup. Unfortunately, the thought of being in front of the camera usually amplifies anxiety surrounding styling and grooming, so to calm those nerves, here are some hair and makeup styling tips to help you prepare.
Hair:

Natural, natural, natural. Personally, I feel the natural look is best for maternity sessions, so I highly encourage my moms-to-be to lean in this direction when styling. If you have long straight hair, add some big loose curls but keep your hair soft – not too much product. If you normally wear your hair in a messy bun then plan to put it up at the end of the shoot for a second option. With short hair maybe bring along some clips or a headband that we can play with.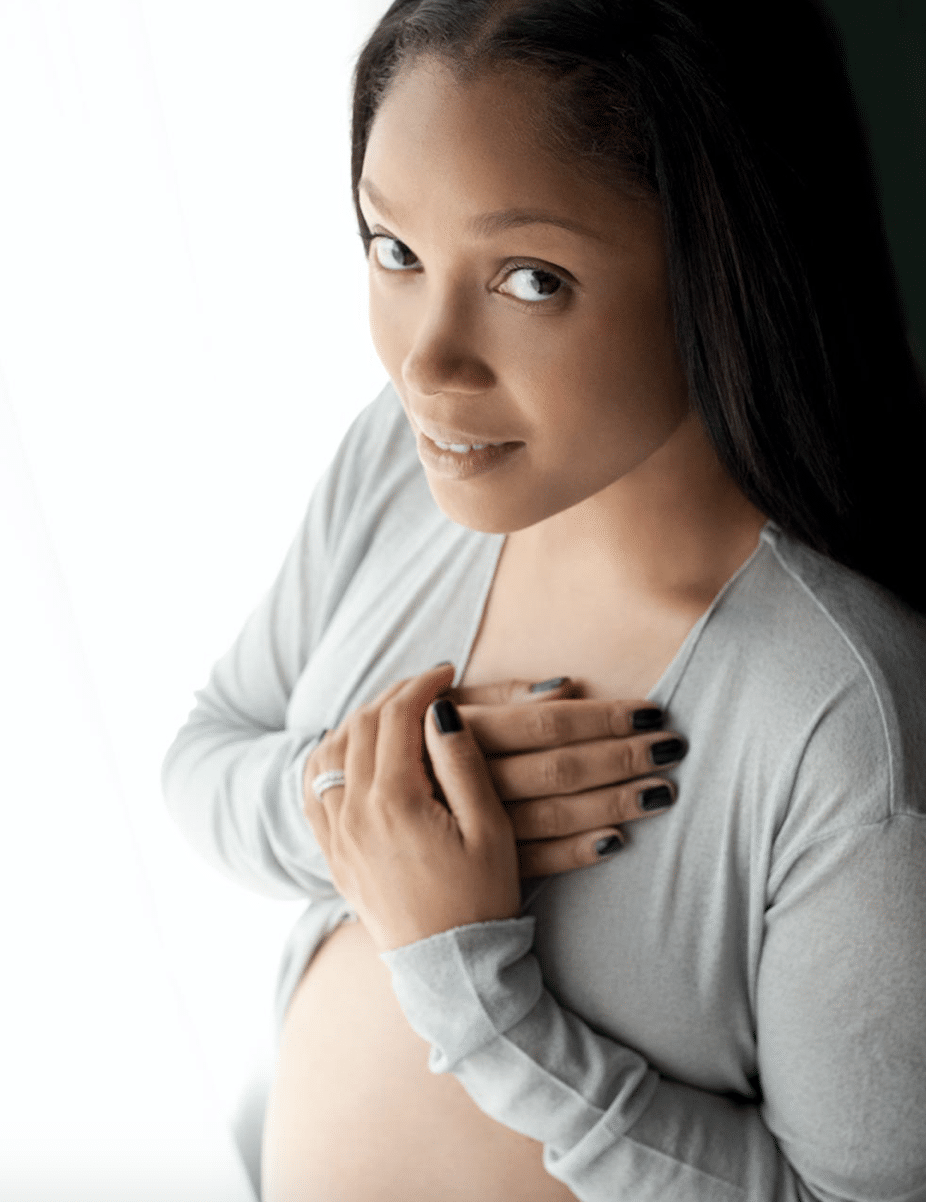 A tousled, messy look is also a nice option for some. But most importantly, don't wear your hair in a way that you normally never would. The photos should be a representation of YOU. If your hair is over-styled it will likely make you feel uncomfortable and unnatural which will definitely show in the images.
If you plan on getting your hair done professionally, chat with your hairdresser before your session or do a trial run. They should know exactly what to do to make sure you feel confident and look incredible. Also, ask them to show you a second look to use as another fun option.
Makeup: 
Sorry to say it but natural wins out here as well. We all know, getting ready for a photo shoot isn't the same as getting ready for a regular day. Of course, we want you to feel and look like yourself, but the camera and flash adds a little bit of a challenge when doing your makeup.
Moisturize – this is in most of our daily routines anyway, or at least we all know it should be. But, when studio lighting is involved, it is twice as important. Flash can be a little unforgiving with dry skin. Make sure you moisturize for several days leading up to your session, as well as the morning of.
Drink water – lots of water! See above. Drinking a lot of water will help give your skin a natural glow and will help prevent break-outs.
Foundation – less is more! Do NOT overdo the foundation. Heavy cream foundations can look cakey and show up extra thick on camera. If you feel good about a powder foundation, use it – but sparingly.
Contour/highlight – if this is already a part of your makeup routine, go for it but keep it natural. When overdone it becomes very obvious in photos. I typically have to remove contour when editing rather than add it.
Eyes – Make them pop, but again, keep it natural! You can make this happen with some mascara and perfect brows.
Bring a touch-up kit – lipstick, some powder, concealer, and if you have oily skin bring some skin blotters. They will help keep your shine down throughout the day. Add some bobby pins, an elastic and your "touch-up kit" is complete.
This can sound intimidating, but you can do it! Especially in the age of YouTube, there are a million resources to help you achieve a picture-perfect natural look. If any of you moms have any questions, please call or text me at 214.864.5787 or use my online contact form and I'll get back to you quickly, usually within one day. I look forward to speaking with you.