A fashion maternity photo shoot is one of our specialities at Miette Photography. Jayme draws from her experience as a former model and her 20+ years of experience in portrait photography to create beautiful, timeless maternity shots for her clients. And while she believes that the main focus of the photo should be YOU—and your beautiful body—it helps to be prepared with the right clothing. A few timeless, staple pieces will go a long way toward making your fashion maternity photo shoot a success.
Most all of the clothing in Jayme's maternity portfolio is available in Jayme's studio. She keeps a closet stocked with things that never go out of style and will help highlight your bump. You can pick and choose what catches your eye. At Miette you will be guided every step of the way in styling your session. All of the clothing options and new suggestions will be discussed at your pre-session consultation. So don't worry, if you can't decide or just want to place your trust in us, you can show up with nothing at all and you will be ready!
Statement Fabrics for a Fashion Maternity Photo
Statement fabrics are a key part of high fashion maternity photography. Sometimes Jayme will use different fabrics to create more dramatic high fashion looks or to simply wrap around your pregnant belly for a beautiful, ethereal effect. She has a collection of gorgeous 100% silk fabrics that work wonderfully for this. Jayme will wrap the fabric around you in a way that shows off your gorgeous shape without taking the spotlight away from you.
Lacy Lingerie
Whether you're considering boudoir or modest maternity photography (or both), lingerie can make an appearance! Pull out something from your wedding night or borrow one of our beautiful pieces. You'll immediately feel sexier, and it makes every photo more fun and fashionable. We can show as little or as much skin as you'd like—it's about what makes you feel your best. Pair your lingerie with jeans, a robe or even a cardigan for more coverage and a different look.
Basic Black for Simplicity or Drama
The little black dress can go a long way but so can a darling crop top that show off that belly.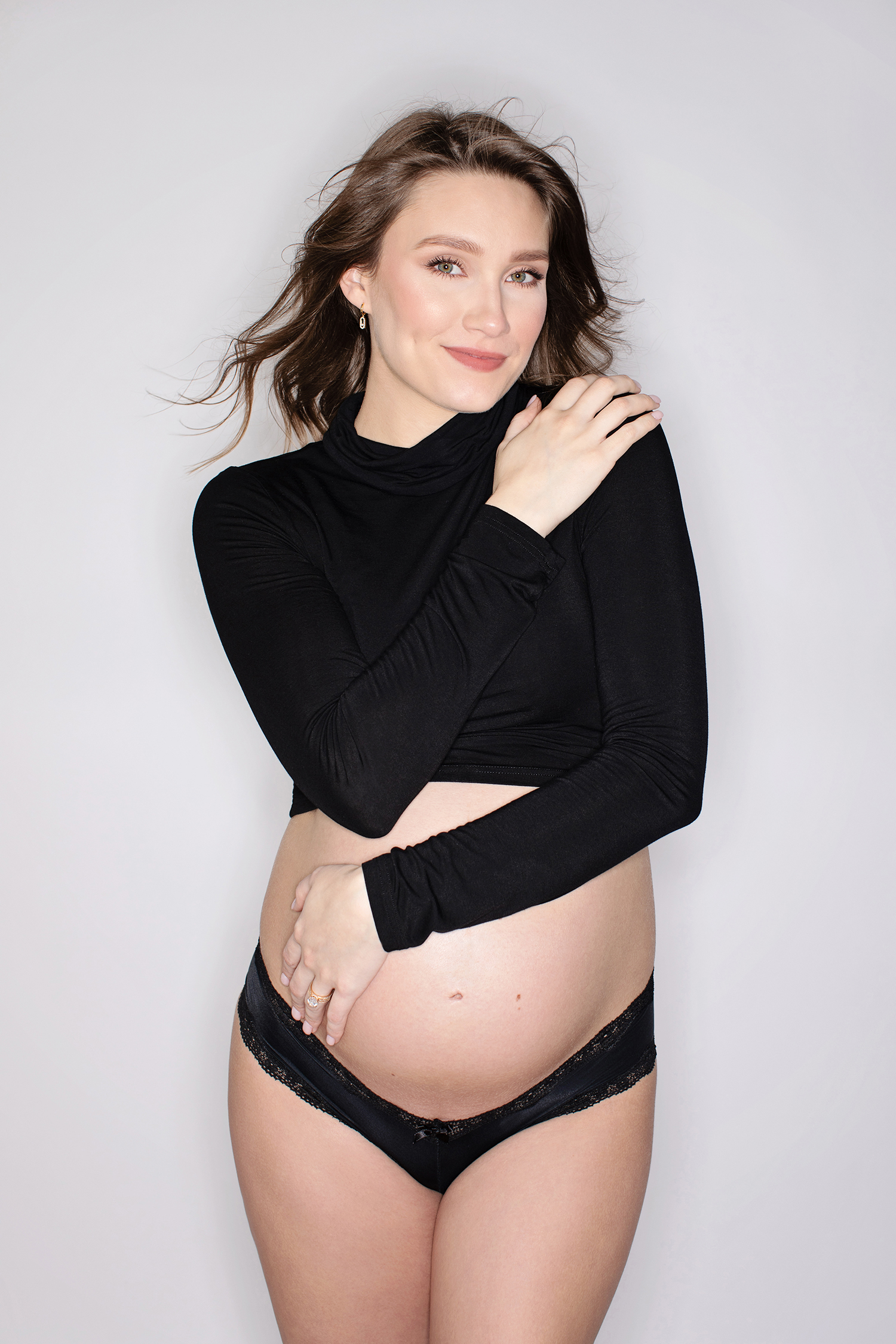 Statement Pieces
Everyone loves a fashion statement piece. Do you have a favorite jacket or favorite pair of shoes that you are just dying to show off in your images? Bring it all! We have some at the studio as well, so if you are in the mood we can create just about any look you want.
Now that you've got some ideas for how to dress for a fashion maternity photo shoot, contact Miette Photography to get a session in the calendar! Plus, check out the best hairstyles for a maternity photo shoot.