**Disclaimer: While the images in this post are very tasteful, they're probably NSFW (Not Safe For Work) due to partial nudity.**
Since this summer seems to be full of expectant Mamas with big round bellies that are, well, full of kiddos-to-be, I decided to take some time to write down a few helpful tips around a particular kind of maternity shoot – the semi-nude maternity shoot. Earlier this week, I talked about some pre-booking questions you need to think about if you're considering a semi-nude session for your maternity photos.
If you decide that you're ready to take the plunge and bare your baby belly bod, there are a few things you can do to help yourself prepare for your session….
1. Get to know your photographer
You've probably done this to some extent already, scoping out their website and checking out their portfolios. If you haven't looked in-depth at examples of their maternity photos, now is the time. Study the different looks they're capable of creating and make note of the ones you like the most. If they don't put images with partial nudity on their website, see if they'd be willing to set up a time for you to view some examples in their studio.
Ask LOTS of questions. In my last post, I listed 5 main questions to consider before you book, but you may still have more afterward. Have them walk you through their process, talk about all the looks and styles you like from their work, and take the time for you both to get a clearly defined session plan. Feel free to ask about how they got into photography, how long they've been in the area, and other off-topic questions. You don't have to get too personal, but you do want to feel comfortable enough with this person to undress in front of them.
If possible, have this discussion in person, or over the phone. This will help you get to know your photographer's real personality, versus just words in an email exchange. With all my clients, I schedule a pre-session consultation that can be done over the phone or at my studio. At my studio I can show them more examples of my work than what might be on my website, and they can see ahead of time where their session will take place so it's more familiar when they arrive for their shoot. Taking the mystery out of situations often alleviates many of the fears.
2. Find the right clothes
For all of my photo shoots, after I've talked with the client, I give them a style guide to help them choose items for their sessions that will highlight the type of session they want – from fully clothed to nude. Despite being called a semi-nude photo shoot, there are actually a few select pieces that should be brought along for these sessions. Since there is no full-frontal nudity in these shots, underwear is typically worn in most shots. Draping material and other pieces, like lingerie, can also be used to cover certain areas, and add variety and texture to the shots.
Specifics can vary for each style, but a few options include:
Underwear:  Thongs are good especially for exposing more of the hip and curve of the bottom. Bras are good for getting a good curve for silhouette photos. Bra and panty sets are also great for women who don't want to do too much exposure, but want a sexy look. Lace, silks, and frilly bits can all add interest and variety, too.
Lingerie: Feminine and designed to hide, show, or accent parts of the female body, most lingerie items are great for maternity shoots. Beyond bras and panties, there are negligees, babydolls, camisoles, and numerous other options. The best kinds are transparent or semi-opaque, have an interesting lace pattern or decorative accents, have an open front for your belly to poke through, or, alternatively, are very slim-fitting to show off your silhouette.
Robes: Some robes are sold as part of a lingerie set, or are similar to lingerie because of their styling or fabrics. Vintage lingerie robes are perfect for this occasion because they tend to be longer and more "flowy" than many modern options. If lingerie just isn't your thing, cotton robes can still be draped and posed to lend a sexy look. No matter the fabric, the biggest appeal with robes for maternity shoots is the open front which can expose the belly, shoulders, or breasts.
Button-up shirts, vests, and jackets: Again, these options capitalize on the ability to cover or expose different amounts of the belly and breasts. Some choices my clients have used include men or women's button-up dress shirts, oversized cardigans, and even longer coats.
Skirts: Skirts can be used primarily as a cover for the lower body. Allowing the focus to be on the upper body. Maxi-skirts work well as a sheath, showing the curves and form in the hips and butt. While circle skirts, or other long A-line skirts have good drape and movement. These styles of skirts are generally easier to get in and out of for pregnant women than pants or fitted skirts. Since they usually don't have a zipper, the hem is nice and uniform around the waist, for less visual distraction. I'll often tuck draping fabric into the underwear hemline to achieve the same purpose with a different look that doesn't exactly look like a skirt.
Color and pattern are important to consider. Generally, solid colors with no pattern will look best in photos, especially on larger clothing pieces, like dresses, robes, and skirts. Lace patterns add great texture, and are often all one color anyway. Small accents of color, like bows on lingerie, are also fine. It's good to run all your pieces by your photographer in advance if you can, and if not, just bring a lot of options. For my clients, my style guide will give more specific examples and instructions.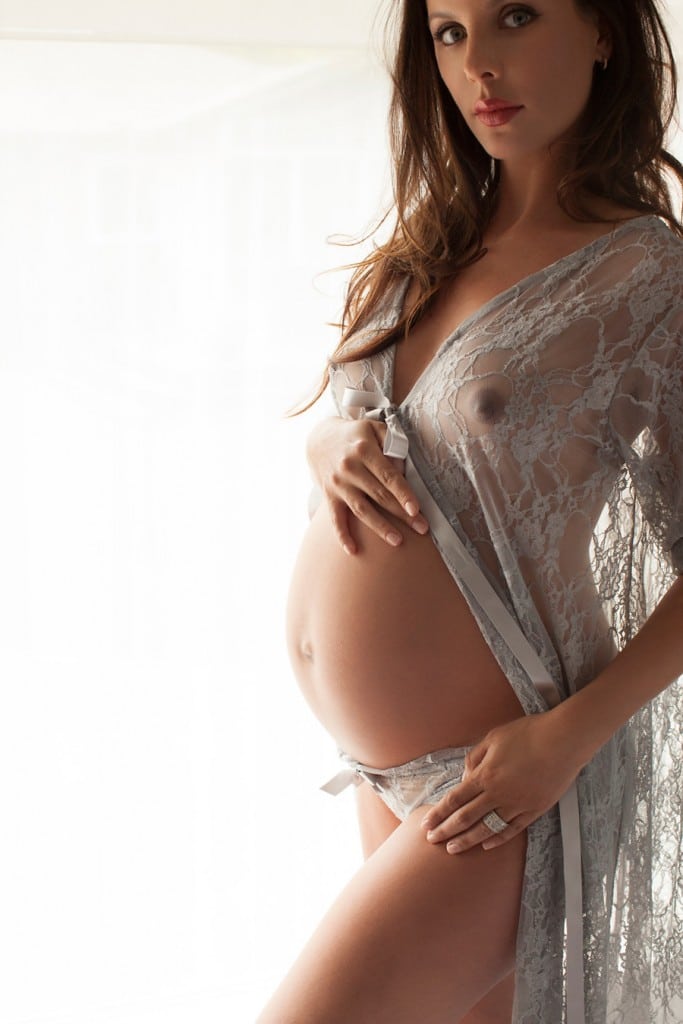 3. Be Healthy
A healthy mama leads to healthy-looking photos! During your pregnancy, you'll probably already be living the healthy life, but in the days leading up to your session, take extra good care of yourself.
Drink lots of water, and avoid super-sugary or fried foods. This will help your skin look clear and smooth. Watch your diet the day or two before in particular. Don't eat anything that you know might contribute to water retention.
Get a good night's rest the night before your session. Not only will it help reduce any bags under your eyes, but you'll feel less stressed and calmer during the shoot.
4. Body Grooming
Besides your face and hair, which I'll cover in the next section, you'll want to beautify the rest of your body, too.
Treat yourself to a manicure and pedicure. Your hands will likely play a central role in many poses. Since you touch and hold your belly, and your feet may be visible in some shots too. You'd be surprised how much your nails can stand out if they're not at least trimmed and evenly filed.
For body hair removal, do whatever your normal process is. If you prefer waxes, be sure to get these done at least 2-3 days BEFORE your session. That way you give your skin time to calm down and repair itself. If you're getting any facial hair waxed, this is doubly true! Your makeup can help cover any redness, but putting makeup over freshly waxed pores will likely clog them. That could lead to blemishes that can appear in as quickly as a few hours. Best to give your skin a few days to recover.
5. Hair and Makeup
If you're very particular about things, there's nothing wrong with styling your hair or doing your own makeup yourself. But remember that these are beauty portraits. I highly recommend getting your hair and makeup professionally done before the shoot. In one way, it adds to the specialness of the event – treating and beautifying yourself. But it's almost always less stressful for you if you don't have to worry about the fact that you can't quite get your hair looking perfect.
The looks you're going for in your photos may influence your makeup and hair style. Be sure to talk this through with your photographer. If you want mostly sultry, and sexy looks, then a bolder makeup look may work best. A lighter, natural look may serve you better if you aren't much of a makeup girl in general.
If you don't have a stylist in mind, I have one I work with on a regular basis that you can request.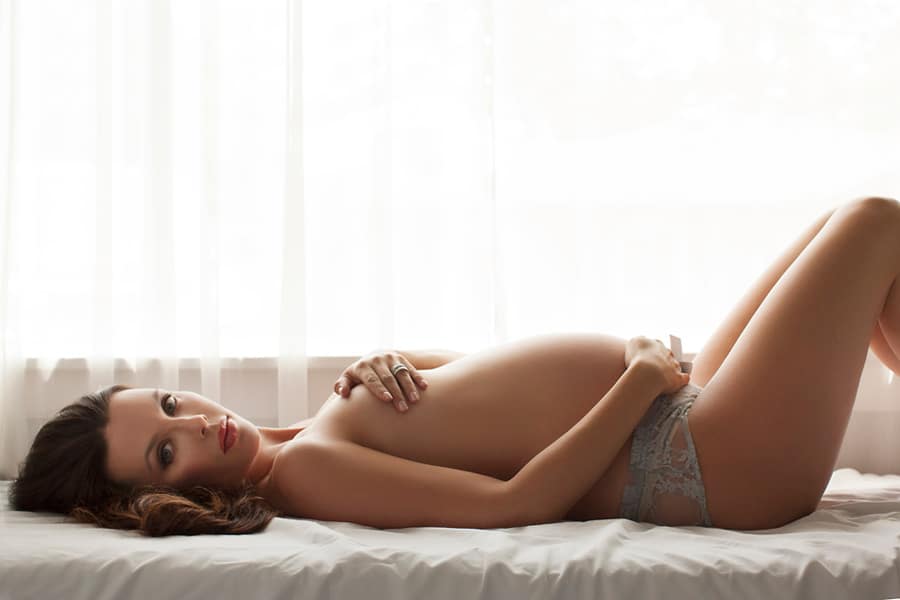 Hopefully you now have a better idea of what to expect when you choose a semi-nude maternity session. If you still have questions, please feel free to contact me at info (AT) miettephotography.com or call me at 214.864.5787. Also, check out my maternity portfolio for examples of my maternity work!