This lovely Mama is a returning client and is expecting her second baby. I took her maternity photos for her first boy, and it's really fun to look back and see how each set was different. Here are a couple of shots from her first maternity shoot.
I also shot her son's newborn photos, 6-month-old, and 1-year-old photos. And now she's back with a baby in her belly, and a toddler on her hip. What I love about this set is how she works with the different styles, settings, moods, and poses to embody different aspects of "Mommy-ness". We weren't aiming to achieve this specifically with this shoot, but the end results were pretty clear to us. Here are a few of the main elements of Mommy-ness that we picked out.
Mother and Child
We start with some great moments between her and her son, sweet moments where he's exploring her pregnant belly and interacting with both Mom and his soon-to-be baby brother. Mom is focused on him, and when the tantrum comes, she holds him close. Now we have a woman comforting her small child while growing another: absolute Mommy-ness.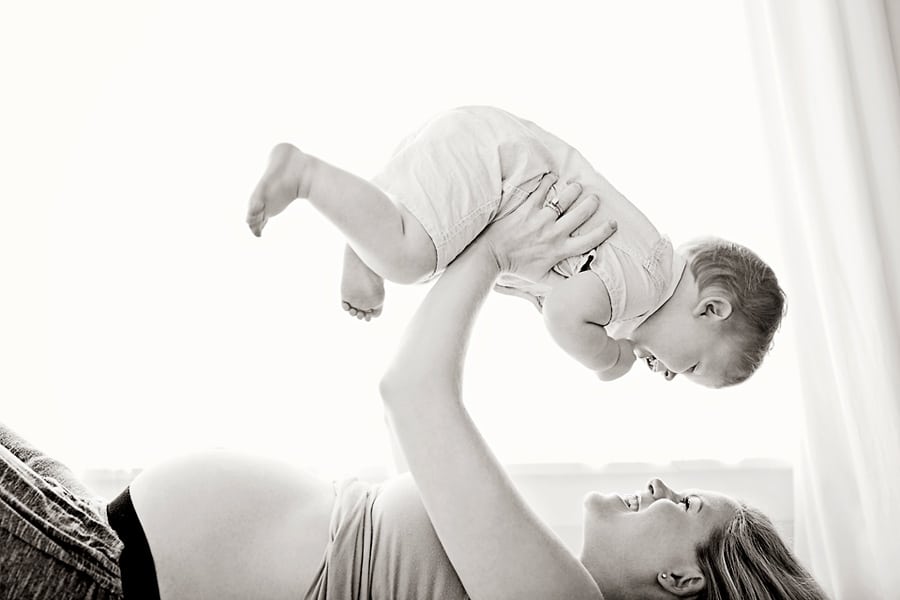 Mother and Family
Then we have some shots with Mom and the family. Hands-on the belly are welcoming the new baby before he's even born. Happy and casual, there's a focus on the baby bump, but everyone is interconnected around Mom. Mommy as an integral part of the family (and with the bulk of the responsibility for actually GROWING the family) is another key component of Mommy-ness.
Mother-to-Be
Finally, we have some solitary shots of our expectant Mother. These capture the softer, sensual side of Mommy-ness. A peek into those quiet moments of pregnant introspection. We're not just seeing Mommy-ness here, we're seeing a beautiful woman in one of her many forms. Gorgeous.