A luxury maternity photoshoot is a special occasion that celebrates the beauty of pregnancy. At Miette, our maternity photography is tailored for art galleries and magazine spreads. We strive to create an experience for our clients that rivals the artistry of an editorial photoshoot to honor your motherhood. In this blog post, we will discuss the process of preparing for a luxury maternity photoshoot.
Pre-Session Consultations
One way we bring out the inner Vogue model in an expectant mom is through our pre-session consultations. You will meet with our photographer, Jayme, to delve into every aspect of your luxury maternity photoshoot. We will go over your style preferences, including the desired mood, wardrobe selection, accessories, and poses. By meticulously covering these details, you can rest assured that the resulting photos will not only meet but exceed your expectations.
Choosing the Perfect Outfits To Capture Your Pregnancy
First of all, selecting the right outfits is crucial for creating a luxurious and elegant look. Our stylist's closet includes many fabrics to craft striking high fashion ensembles that exude drama or delicately embrace your belly, evoking an ethereal allure. Jayme will expertly drape and style you in silk fabrics, accentuating your figure while ensuring that you remain the focal point of attention.
During the pre-session consultation, you will also have the opportunity to share your own outfits and aesthetic ideas with Jayme. You may choose to opt for lingerie from a memorable night, a flowing gown, denim jeans, or fitted silhouettes that accentuate your baby bump. Otherwise, consider fabrics such as chiffon or lace to add a touch of romance. Moreover, soft pastel colors or neutral tones work well for a timeless and sophisticated feel. The best part? Unlimited outfit changes.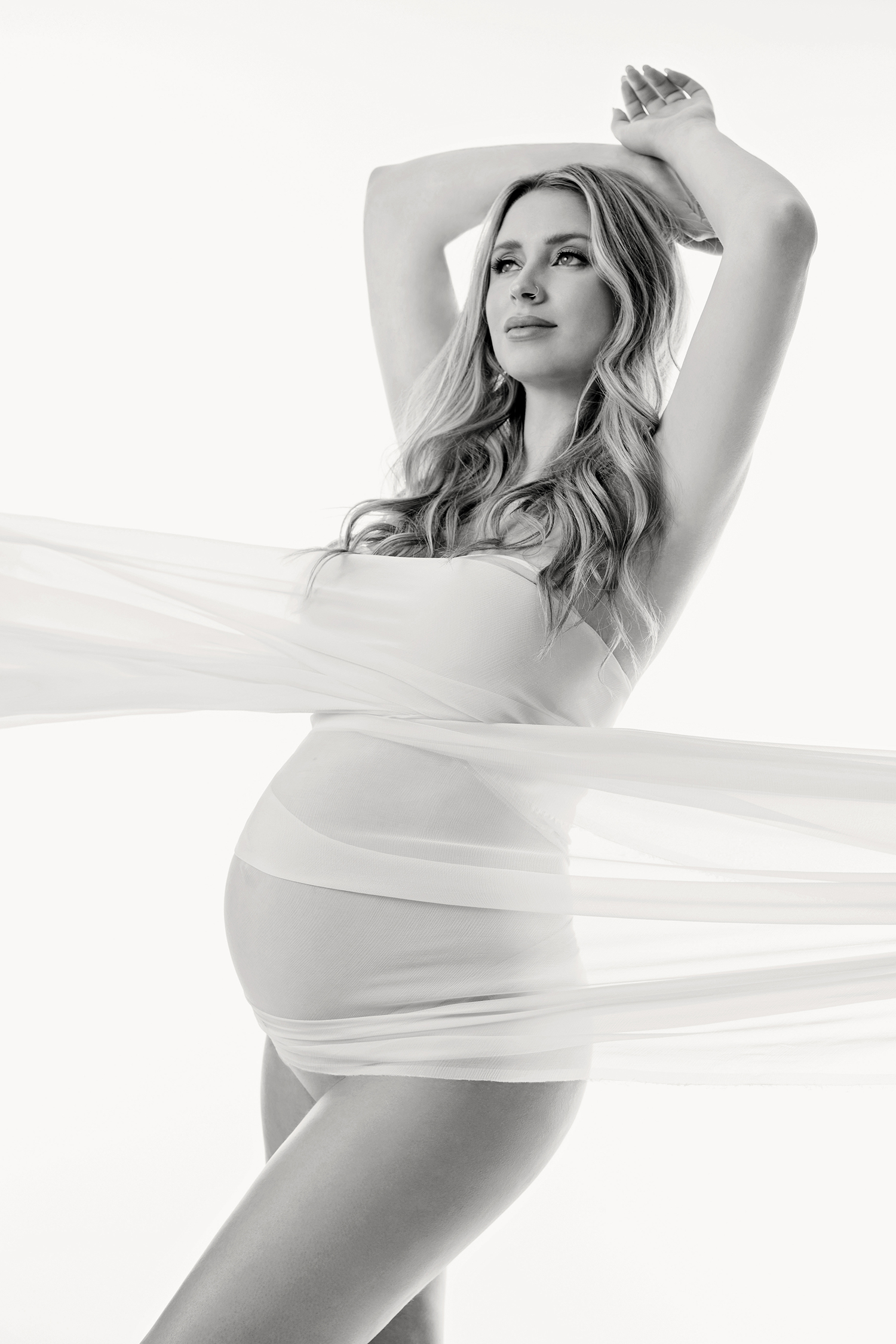 Tasteful Nudity in a Luxury Maternity Photoshoot
Furthermore, many of our clients desire more daring photographs that celebrate their stunning and evolving bodies. Thanks to our exclusive, private studio in central Dallas, you'll have the rare opportunity to embrace the beauty of your natural body. Your shot list can include nude or partially nude poses to showcase the transformations you're undergoing. Above all, in our studio, your comfort is our priority. The only people in the room will be you, Jayme, and your friend, mom, or husband should you desire to have one of them with you!
Celebrate Your Motherhood With One of the Best Maternity Photographers in Dallas, Texas
With our concierge experience, you can embrace the process and enjoy letting your inner radiance shine through. Get in touch with us to learn more about how Jayme can capture the essence of this beautiful chapter in your life in a luxury maternity photoshoot.